The newest bright star of our kennel is Bakira Ayaba who recently became Austrian junior champion, successfully passed a behaviour test (Begleithundeprüfung – 1: 90 points) and caught her first wild boar. She also winning BOS award Best female at the Austrian Rhodesian Ridgeback club show. She was also placed nicely in the last six females in intermediate class at World dog show in Bratislava.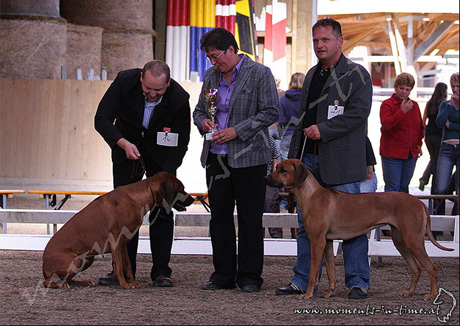 Last few shows
22. Clubschau des RRCÖ, 05.09.2009 in Frohnleiten: CACA, BOS, Beste Hündin
CACIB Celeia (SLO) 2009, 26.09.2009: CAC, R.CACIB
CACIB Celeia (SLO) 2009, 27.09.2009: CAC, CACIB, BOB 2nd in Group 6
Bundessiegerausstellung Tulln, 3.10.2009: R. CACA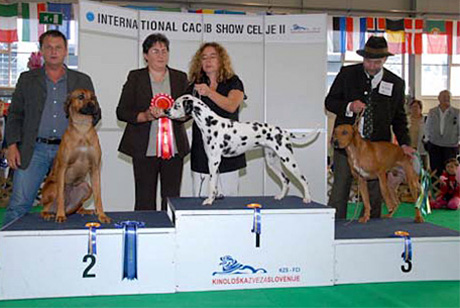 Born to track
'Bakira Ayaba ist nicht nur österreichischer Jugendchampion sondern auch ein super, super Familienhund. Aber bei Bakira gingen auch in keinster Weise die so geschätzten Grundeigenschaften dieser Rasse verloren. Sie ist bei jeder Art von Fährtenarbeit mit viel Freude, großem Finderwillen und innerlicher Ruhe – die ich bei diesem Hund sehr schätze – bei der Sache und meisterte auch die erste Nachsuche auf ein Wildschwein mit Bravour', sagt unsere Helmut.